OWB tips :
OWB is a crucial but also very sensible application. I personnally find it very fast and usefull. I use it for webmailing, browsing my blog, going on http://aros-exec.org, http://youtube.com, etc…
When on facebook, everything's ok, as HTML5 is recognized, but it often crashes on facebook videos.
You must disable the "autostart" parameters, and use "standard definition only".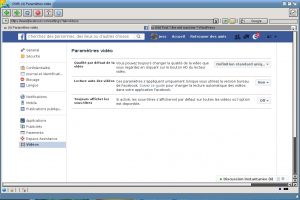 Pages do not show CSS correctly :
For example WordPress 4.7 admin page. It used to work, then don't work anymore.
Reproductible problem :
You go to edit an item (page or post), then click again on the menu on the left. You see the admin page that is not displayed well anymore.
Workaround :
This has something to do with the cache, i don't know why.
You must : start from a fresh copy of OWB drawer, go to your admin page (or somewhere else). In the "Conf" drawer of OWB, you see a file called
29a5abb3-i386-aros.cache-4
Backup it somewhere (with DOPus2 ?)
When this behavior from OWB occures, then :
copy back the file you backuped
delete the content of the drawer "conf/cache"
launch OWB again. The problem should be fixed now.

TO DO EACH TIME

, so

keep a copy

of the file you backuped !
Some more piece of advice : to make it faster, copy your OWB drawer to RAM: before begining your surf time.
Pictures do not show correctly :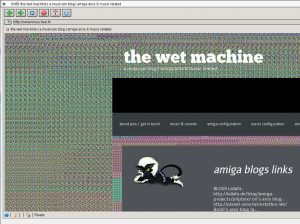 Replace the SYS:Libs/jfif.library and jpeg.library by the one from Icaros 2.1.3 DVD. Tadaaaa !
Stack overflow errors ?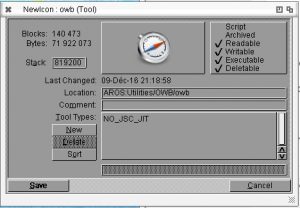 Go in the Information window of OWB icon (in SYS:Utilities/OWB, right click on it, then "information…")
In the "Stack" field, replace 8192000 by 16192000