What versions ?
This article is about those software versions :
– Odyssey Web Browser (OWB) v 1.16.2
– IcAROS 1.5.2-2
Your question can be :
I have problem surfing in https with OWB. It says that he has a problem with the SSL CA certificate.
This can be an error 60 :
Unable to connect to "https://www.facebook.com"
Error 60 : Peer certificate cannot be authenticated with known CA certificates
or maybe an error 77, like this :

Unable to open https://www.facebook.com/....
Error 77 : Problem with the SSL CA cert (path? access rights?).
Possible workarounds :
– Check your date and time, and restart OWB.
– Take your AROS install cdrom or usb pendrive and copy the file curl-ca-bundle.crt located in Utilities/OWB drawer, to the OWB drawer on your hard drive, restart OWB.
– If this doesn't work, you can also make something sneaky, "ignore SSL errors".
You can find it in the menu : Settings / Preferences / Security -> Ignore SSL errors like that :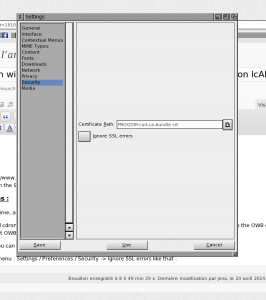 Usefull Ressources :
– update the file curl-ca-bundle.crt downloading a new version there : http://curl.haxx.se/docs/caextract.html