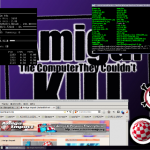 This article is meant to explain simply, and step by step, how to create a light installation of ubuntu 12.04LTS.
Unity, Gnome, KDE are very heavy. It cannot run there, on my DELL Optiplex GX280 2Gb RAM.
This is quite a challenge to have a modern environment on such an old comp (at least 6-8 years).
I also want to use this article as an introduction to the installation of custom E-UAE running amiga OS AND/OR AROS linux hosted.
Targeted system :
– Ubuntu 12.04 server LTS 32bits/64bits
– use of tint2 and openbox
This is MY way, but this should be usefull for everyone. Continue reading "ubuntu light install"